May. 31, 2019
Dongfeng Cummins B series diesel engine is a product of Cummins Inc, introduced by Dongfeng Motor Corporation through technology transfer in 1987. Cummins Inc. (CUMMINS) is one of the largest diesel engine manufacturers in the United States. Founded in 1919, the company has developed a variety of world-famous, technologically leading diesel engines, and its product quality and performance enjoy a high reputation in the world.
Dongfeng Company and Cummins USA formed a joint venture company in 2003 - Dongfeng Cummins Engine Co., Ltd.
Dongfeng Cummins B series diesel engines are well known internationally. With supercharged and supercharged intercooling as the basic models, it has eight characteristics: reliable, durable, emission and noise meet US regulations, advanced performance index, wide application range, good applicability, low cost, convenient maintenance and repair.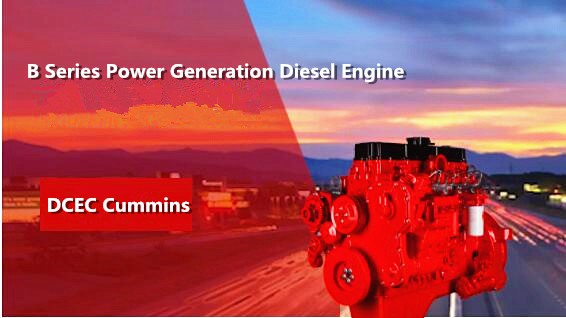 Cummins Medium Power Diesel Engine in China
In 1986, Cummins and Dongfeng Motor Co. signed a contract to transfer technology to produce B-series diesel engines in Xiangfan, Hubei Province.
In 1989, Dongfeng Company officially put on a market of 8 tons (14 tons total weight) heavy-duty trucks equipped with 6BT diesel engines.
In 1991, the factory producing B series diesel engine was completed and put into production.
In 1995, the localization rate of 6BT engines reached over 97%.
In 1996, Cummins and Dongfeng Motor Co. signed a contract to produce C/B series diesel engines in Xiangfan, Hubei Province. In the same year, Dongfeng Cummins Co., Ltd. was established.
In 1998, Dongfeng Cummins began to produce C-Series engines in CKD mode.
In 2000, the new factory building of Dongfeng Cummins Company was completed.
In 2001, the cumulative production of domestic B-series engines reached 300,000 units.
6BTAA engine structural parameters:
Type ( Engine Type ) - 6 cylinders (Inline 6)
Displacement - 5.9L
Air Intake –
Naturally Aspiration
Turbocharged
Air Cooled Turbocharged
Bore and Stroke – 102 mm x 120mm
Weight - 453KG
Length (L) × width (W) × height (H) - 1026 × 699 × 912mm
Rated speed - 2600~2800rpm
B Series Engine Power range (4 cylinders and 6 cylinders)
Car: 120~210HP
Construction Machinery: 80~180HP
Generator set: 120~180HP/50HZ
Marine: 120~120HP
DCEC Cummins B Series Diesel Engine Fuel System
1. Features: B series engine can be equipped with VE pump and inline pump according to user requirements.
• Using small aperture porous small injector (5 hole injector)
• Independent plunger and diaphragm oil pump - driven by camshaft
• Two-stage spin-on fuel filter with oil-water separator
• Determine the timing of the oil supply with cam lift or timing pin on the gear housing.
2. Composition: oil pump, fuel filter, oil water separator, low pressure oil pipe, high pressure oil pump, high pressure oil pipe, fuel injector, fuel oil return manifold, fuel return pipe.
Pump
The oil pump is available in diaphragm type and plunger type. The diaphragm type oil pump is used for the VE type distribution pump, and the plunger type oil pump is used for the inline pump. The two cannot be replaced.
If it is a diaphragm type oil pump, the oil pressure is 13 kPa, so the resistance of the oil path cannot be greater than 13 kPa, otherwise the pump will not produce oil. The oil pressure of the plunger pump is: 138KPa.
Filter: It is a two-stage series with a filtration efficiency greater than 90%. The filtration accuracy is 25 microns.
The filter should be replaced regularly (100 million kilometers), otherwise the engine power will drop and the oil supply will be insufficient.
Drain the water in the oil-water separator every day.
Timing mark
The oil pump needs to be marked with timing when assembling. Different oil pumps may be different. The general steps are:
1. Confirm the engine one-cylinder compression top dead center TDC, there are many ways to determine.
2. Confirm the timing of the oil pump (via the timing pin on the oil pump)
3. Lock nut
Note: Some oil pumps are aligned with the mark on the oil pump gear and the camshaft gear, such as the VE pump. The inline pump is also marked by the timing.
Cooling system
Basic technical parameters and use requirements
Engine water jacket capacity: 6B: 10.5L; 4B: 7L
Cooling system capacity (without heater): 23L
Thermostat opening temperature 83°C, full open temperature: 95°C
Pump flow: 216L/min
Coolant requirements:
50% water + 50% ethylene glycol, ambient temperature: above -40°C)
40% water + 60% ethylene glycol, ambient temperature: below -40°C
Coolant boiling point: 110°C
Expansion tank pressure cover opening pressure: 44.1-53.9kpa
Lubrication system
Oil pump output oil at rated speed: 61.8L/min
Pressure regulator opening pressure: 495kpa
Engine oil pressure when working: low idle speed: ≥69kpa, rated speed: ≥207kpa
Oil sump capacity: 6 cylinders: 14.2L ~ 12.4L 4 cylinders: 9.5L ~ 8.5L
The oil pan oil level should not be lower than the lower mark of the oil gauge or higher than the upper limit mark.
Oil viscosity:
15W—40 ambient temperature: above -5°C
10W--30 level ambient temperature: -5°C - -20°C
5W-20 level ambient temperature: below -25°C
Engine oil grade: CH-4 or higher engine oil
Warm up after the first start every day, the engine idles for 5 minutes, and the engine idles for 5 minutes before stopping.
The oil pressure must be displayed within 15 seconds after starting.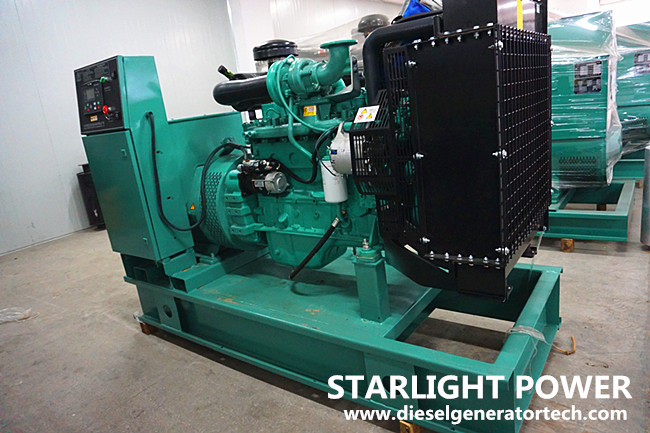 Starlight Power is one of leading diesel generator manufacturers in China, with more than 43 years experience producing generator sets, Starlight can provide high quality Cummins generator power range from 25KVA to 2500KVA to customers according to their requirements.