The feature as below:
1. Design and manufacture as per the international standard container, i.e.:20 feet for 1000KVA or less and 40 feet for 1250KVA or above.
2. Available the CSC (international convention for safe containers) certificate, the whole machine set can be shipped via ocean as the standard container, and thence it can save hugely transport cost.
3. Two explosion-proof lights (an extra one for the control panel) are designed inside the container, easy to operate and maintain.
4. Available to access in the front and at the back of the container, with two sides doors at both sides, easy to maintain and repair, with ladder outside.
5. All hinges, locks and bolts are made of stainless steel, with the wave and rain-proof apparatus designed inside.
6. Design the control panel and the output swichgear at the same side of container, easy for user to make routine operation and connect the output cables.
7. With the permanent excitation PMG system adopted, which improves the start capacity of motor and resists against the wave-based deformation.
8. Apply unique design for fuel tank, pipe, machine oil discharging system and sound damper.
9. The silent container is made by high performance and anti-ageing, flame retarding, sound insulation and damping materials, with unique and elaborate design for air intake, outlet and noise reduction device.
Optional parts: auto fuel feed pump(or control valve), cooling liquid feed pump, dual oil-water separator, auto parallel system, etc.
Engine brand: Cummins, Perkins, Volvo, Yuchai, Ricardo, Shangchai, MTU, etc.
Alternator brand: Stamford, Leroy-Somer, Siemens, ENGGA, MARATHON, Shanghai KEPU, etc.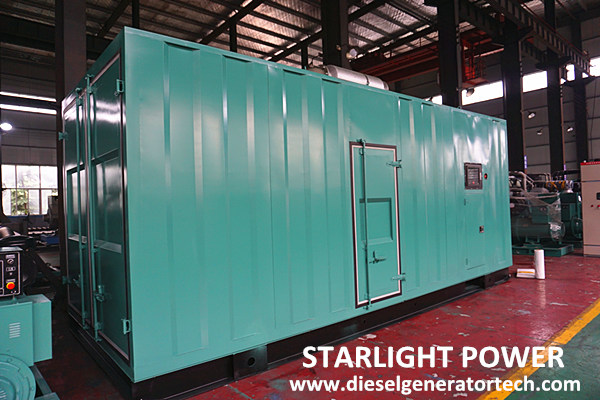 Email: sales@dieselgeneratortech.com
Tel: +86 13481024441
Related Technical Documents